There's ALL kind of riots going on in St. Paul. This is the big effing LOL variety: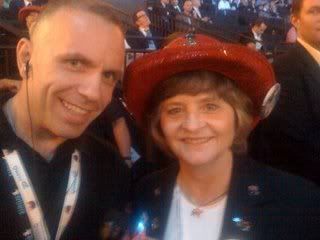 Check out gay activist/journalist/radio host Mike Signorile with our very own lovely right-wing nutjob Sally Kern!
He interviewed her, but hasn't got it up yet. I can't WAIT to hear her demented thoughts about Sarah Palin! Will update here when it's available.
He's also got some other great shit from the convention:
McCain's 94-year old mother complaining that "they won't let me talk."
Mike sticking a mic up to Rick "Man on Dog" Santorum's ugly mouth. Yuck, I don't know if I can stomach listening to it after that visual!
Update: Well, doesn't look like the full interview will be posted. It was played on his show on Sirius radio, and he did share a 2-1/2 minute clip. At the very end, Sally referred to her previous encounter with him, not realizing she was talking to the same guy.