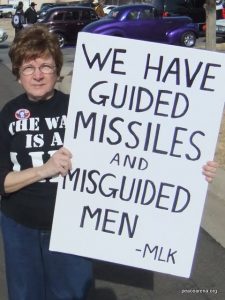 I slept quite a bit later than usual today, thus missing the OKC event marking the anniversary of the MOW in 63. I think my body knew what my brain didn't (yet): I did not want to go and listen to a lot of chants and speeches, and hear not one goddamn word about war or the warlike violence our nation perpetrates in the name of national security. You know, the shit Dr. King would say, if, by the grace of providence, he was here to mark the milestone with us. I didn't want to see the JROTC/color guard leading the march like they do the MLK events in January every year, not just in OKC but across the nation. A "tradition" that is an unforgivable perversion of King's values, and a knife in the heart of his legacy. Or witness the abominable (but very well funded) contingent of military recruiters, whose only goal of participation is to ensnare some poor kids into their crime syndicate.
If I am wrong, and I learn that "war" was uttered at least once, I will be properly chastised and sorry to have missed the historic occasion.
I will also be extremely shocked.