And of course, few in OKC bother to support this talented progressive singer songwriter. Next time someone complains that OKC doesn't get included in such tours, I'll just ask, well, were you at David Rovics (or David Swanson, or Max Blumenthal and David Cobb — all outstanding local progressive events that were under-attended)? These people talk to each other, you know, though I really don't want to speculate about that conversation.
Yes it's a niche audience he appeals to, but that niche exists here and its members need to turn off the fucking tv and get their priorities straight. Changing this backwater into a reasonable, respectable, non-embarrassing place to live, work and play isn't going to happen by itself.
Yet the concert was a smash sellout compared to the Let Them Heal demo earlier in the evening. Ah well, everyone's just tired of politics and war, I guess, and of course, Obama's just going to sprinkle magic liberal dust and make everything perfect without our help. I wish I could drop out as well, in some ways my life would be so much better. … but, it would also be a lot less interesting, and what the hell would I have to blog about.
This was my favorite from the night's playlist:
He also did songs about the Gaza flotilla action, the Iraq war, uprisings here and there, Jesus, anarchists and love. His voice is not bad, but nothing to rave about — however, his songwriting is astute, polished and subtle but powerful. He was passionate, non cynical and humorous.
I hope he comes back through before too long, though I wouldn't blame him if he didn't.
P.S. Other attenders were similarly impressed.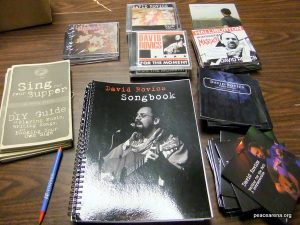 The older CDs are available on iTunes as well.