Last week I posted about Rachel Maddow's coverage of The Great Oklahoma Picture Diss, when a mystery legislator (later revealed to be Lewis Moore of Arcadia) actually moved the picture of President Obama, so offensive is even his symbolic presence in the chamber to some of the conservatives playing at government there. She called them "paste-eaters" which I got a big kick out of, because I'm a bit of an eight-year-old myself sometimes.
And in my twisted mind, it made me think of The Potato Eaters, the Vincent van Gogh painting of Dutch peasants. I shared my mental image with someone with actual artistic talent, in this case, Mitch™* of the brilliant Phototune image blog, and this is the result.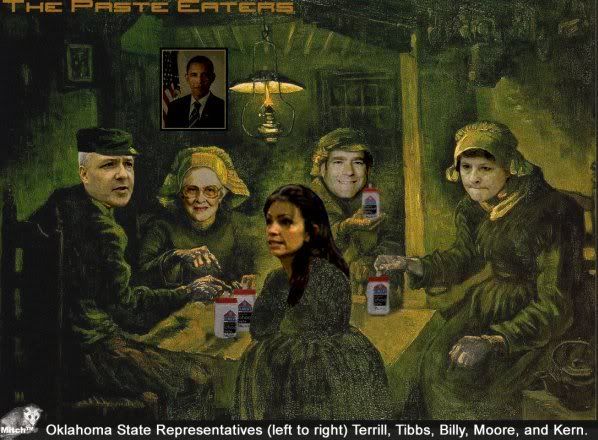 click on image for larger version
Apologies to van Gogh, and to Dutch peasants, and potatoes, and paste. They all are blameless and generally wonderful to have around, unlike these cretins who shame all Oklahoma with their idiotic backwards-thinking antics.
* Manipulated images to cause havoc